7:30PM, Thursday, November 3, 2022
J. S. Bach:
Prelude and Fugue in C-sharp minor, BWV 873
György Ligeti:
Etude No. 2, "Cordes à vide"
Frédéric Chopin:
Scherzo No. 4 in E Major
Béla Bartók:
Out of Doors, Sz. 81
**intermission**
George Walker:
Sonata No. 5
Claude Debussy:
Selections from Preludes, Book II
Ludwig van Beethoven:
Sonata No. 32 in C minor, Op. 111
For tickets, click to the right or call 218-831-0765 for assistance. Tickets also available at the door.
"…what a marvelous musician Ozel is, one with disarming confidence in his interpretations and a gift for smooth and engaging mood shifts." –Star Tribune
Minnneapolis-born pianist Evren Ozel returns to Minnesota for these performances continuing the Lakes Area Music Festival's fall programming. A master of the works of Frédéric Chopin, Ozel will perform the Scherzo No. 4 in E Major alongside Beethoven's final piano sonata and an eclectic variety of other works.
This program will also be performed at the Gichi-ziibi Center for the Arts in Brainerd on Sunday, November 6 at 2:00 p.m.
Featured Artists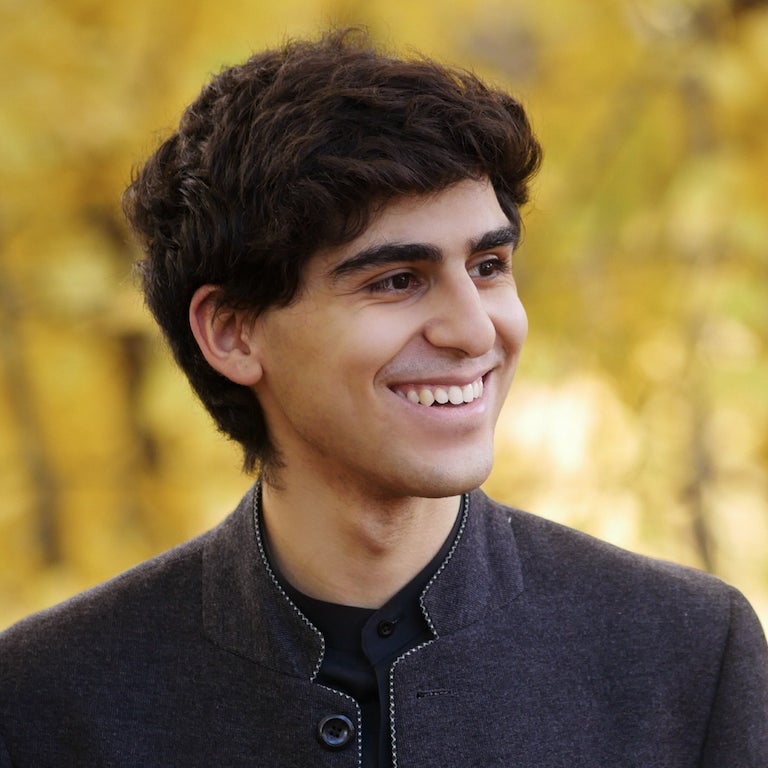 American pianist Evren Ozel began his musical studies at age 3 in his hometown of Minneapolis, MN. He has won numerous honors and awards including scholarships from the U.S Chopin Foundation and Young Arts Foundation, first prize at the 2016 Boston Symphony Concerto Competition, second prize at the 2016 Thomas and Evon Cooper International Competition, and second prize as well as Mozart and Chopin special prizes at the 2018 Dublin International Piano Competition. Most recently, he received second prize and special prizes for Best Mazurka and Best Polonaise at the 2020 U.S. National Chopin Competition securing the honor of representing the U.S.A in the International Chopin Competition in Warsaw, Poland in October 2021, where he was a quarter-finalist.
Ozel has performed with orchestras such as the Cleveland Orchestra, Jacksonville Symphony Orchestra, Minnesota Orchestra, RTE National Symphony and Boston Pops among others. In 2018, as a freshman at New England Conservatory, Evren won both the Honors Piano Competition and the NEC Chamber Concerto Competition which garnered him an opportunity to play on the Jordan Hall stage with the school's conductor-less orchestra.
An avid chamber musician, Ozel was selected by Mitsuko Uchida to participate in the prestigious Marlboro Music Festival. There he performed with Jonathan Biss, Alice Neary, Marcy Rosen and Joseph Lin, among others. Three of his performances at the festival have already been featured in the archived Historic Recordings from Marlboro. In 2019, he participated in Chamber Fest Cleveland, featured in their Rising Star program, performing along side artists such as Franklin Cohen, Peter Wiley and Hsin-Yun Huang. Of his performance of Franck Sonata with Nathan Meltzer, Cleveland Classical wrote "Meltzer and Ozel attended to every contour of the music with care, crafting a longform melodic idea that flowed effortlessly from phrase to phrase and movement to movement. It was a privilege to witness."
Other chamber experiences include invitations to play with Jupiter Symphony Chamber Players and Chamber Music Live! at Queen's College. He was also a member of Gruppetto Trio which was selected as a New England Conservatory Honors Ensemble in the 2018/2019 school year.
Other summer festival experiences include the International Mendelssohn Akademie Leipzig in 2018 as a Mendelssohn Fellow, taking masterclasses with Pavel Gililov and Matti Raekallio, and the Oxford Philomusica Piano Festival in 2015, where he had masterclasses with Ferenc Rados, Menahem Pressler, and Andras Schiff. He has also been selected to perform in masterclasses for Richard Goode, Paul Lewis, Mitsuko Uchida, Garrick Ohlssohn, Robert Levin, Hugh Wolff, Lang Lang and others.
His 2022/2023 Season includes solo recitals for Chamber Music Detroit and the Asheville Symphony Recital Series, as well as Tchaikovsky's Piano Concerto No. 1 with the Midland Symphony Orchestra, and duo recitals for Washington Performing Arts and Philadelphia Chamber Music Society with violinist Geneva Lewis.
Ozel is currently in the Master of Music program at New England Conservatory in Boston, MA where he has been studying with Wha Kyung Byun since 2014. He is represented by Concert Artists Guild, as one of the Ambassador Prize winners of their 2021 Victor Elmaleh Virtual Competition.
All Festival activities are made possible by the voters on Minnesota through grants from the Five Wings Arts Council and Minnesota State Arts Board, through a legislative appropriation from the Arts and Cultural Heritage Fund.